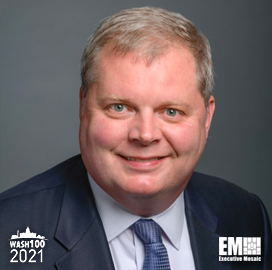 Dr. Jerry McGinn
Executive Director, Center for Government Contracting
The School Of Business, George Mason University
Executive Mosaic, the leading provider in connecting, promoting and branding government and government contracting (GovCon) executives of consequence, is pleased to announce that Jerry McGinn, executive director of the Center for Government Contracting for George Mason University's School of Business and GovCon Expert, has received his first Wash100 Award. 
McGinn has been recognized with the most prestigious award in all of GovCon for his leadership and insight into the critical issues impacting the GovCon industry and the defense-industrial base (DIB) that relates to the reshoring process, domestic production and our nation's M&A activities in important markets. 
Most recently, GovCon Expert Jerry McGinn wrote a commentary piece detailing that the current administration should move forward with a "steady as she goes" approach towards mergers and acquisitions in the aerospace and defense markets. 
He advocated for the Biden administration to rely on the strength of the Hart-Scott-Rodino (HSR) Act to ensure a level of vibrant competition across the DIB without distorting the federal marketplace in a negative way. 
"Overall, these cases demonstrate the strength of the HSR regime at maintaining competition in the defense-industrial base. Rather than introducing uncertainty and risk, the administration is better served by keeping M&A policy 'steady as she goes,'" McGinn added.
McGinn also recommended during an interview in Jan. 2021 that the current administration should also work to identify requirements for driving domestic production due to differing views on what the reshoring process entails, including the need to refine manufacturing skills and mitigate reliance on China on materials such as rare earths and microelectronics. 
He addressed these same issues back in Sept. 2020 citing that the federal government's use of the Defense Production Act (DPA) authority to address gaps in the industrial base during the start of the COVID-19 pandemic and how DPA could serve as a key tool to help expand the domestic production of defense capabilities, personal protective equipment and pharmaceuticals. 
"The solution is not an autarkic 'Buy America'-only approach that would be counterproductive to our long-term economic health," McGinn wrote. "Instead, we need to have a laser focus on getting out of the China business with respect to industrial capabilities critical to national security and, in many cases, doing that with a little help from our friends."
In an article he wrote as a part of Executive Mosaic's GovCon Expert program in Oct. 2020, Jerry McGinn shared his thoughts on the impact the presidential election results would have on the GovCon sector in terms of domestic policy, technological innovation and strategy for U.S. national security. 
"There are differences in national security policy and budget priorities, but overall there is a surprising consensus on critical issues such as countering China, innovating the business of government, and increasing domestic manufacturing capabilities, he wrote. "I delve further into this in my recent piece in The Hill, but in short the government contracting community can expect more continuity than change when the next president is inaugurated."

You have TEN votes waiting to be submitted for the 2021 Wash100 Vote Standings to determine the most significant executives of consequence to the government contracting (GovCon) sector and YOUR votes could be the difference between first and second place. Visit Wash100.com to cast your ten votes before April 30th to ensure your favorite executives receive the recognition they deserve for their contributions to the GovCon sector and federal marketplace through 2021. 
Executive Mosaic congratulates Jerry McGinn on the first Wash100 Award of his long federal career. This marks the first Wash100 win for McGinn, but his contributions to the GovCon sector have made a significant impact on our industry and he continues to be one of its best advocates.