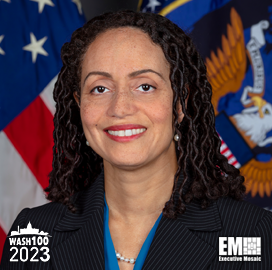 Dr. Stacey Dixon
Principal Deputy Director of National Intelligence
Office of the Director of National Intelligence (ODNI)
Vote

266
Executive Mosaic is pleased to announce Stacey Dixon, principal deputy director of national intelligence, as a winner of the 2023 Wash100 Award in recognition of her accomplishments in the past year to help ensure and enhance national security. This is the fourth consecutive year Executive Mosaic has selected Dixon to the annual list of leaders that shape the narrative around government contracting and promote collaborative innovation.
"Stacey is one of our industry's most popular Wash100 winners, amassing impressive vote counts and industry support across her four consecutive years of recognition," said Jim Garrettson, CEO of Executive Mosaic and creator of the Wash100 Award. "As an individual who has held some of the highest, most consequential roles in the intelligence community, Stacey is uniquely positioned to help guide ODNI's mission and strengthen the country's information advantage," Garrettson added.
In 2022, the Office of the Director of National Intelligence marked its 17th anniversary and took measure of the amount of data integration between federal agencies under its direction.
Dixon shared during an April 13 fireside chat that the impetus for the creation of ODNI was the events following the September 11, 2001 attacks, when scattered information in the intelligence community had to be integrated.
She had only been in her role for six months when Russia invaded Ukraine. Before the war broke, ODNI helped mitigate disinformation by declassifying data, including publicly reporting military mobilization which the Russian government claimed to be military exercises.
The Ukraine invasion exposed the wealth of public information that could be used in intelligence and Dixon noted the use of open source information has been in ODNI's agenda for quite a while.
"With keeping in mind privacy and civil liberties, how do we bring in the information that is useful, and see how it can complement the classified information in terms of being able to provide insights to our customers – it's something that we have been thinking about," she said in the Q&A session hosted by the Center for Strategic & International Studies.
"I think the awareness right now is how much is available for the public to see. It puts us into a different place where we are not the sole ones to have access to that information."
In March, Dixon met with U.S. Army Futures Command officials to discuss the Tech Protect initiative for securing sensitive or proprietary data.
"Deep partnerships across government are essential to maintaining a competitive technological advantage for the U.S., and I enjoyed meeting firsthand the talented Soldiers who are equipping warfighters with modern, tech-enabled solutions to advance our national security," the four-time Wash100 honoree remarked.
Dixon said at the GovCon Wire's 2nd Annual IC Acquisition and Technology Innovation Summit that ODNI adopted robotic process automation to accelerate the agency's procurement processes.
"Once these tools are implemented more broadly, it will speed up and encourage consistency for many repetitive automated tasks, alleviate the administrative burden on acquisition professionals, which is a huge step, and free them up for other more complex work," she stated during the May 4 event.
The ODNI principal deputy director has promoted public-private collaboration to elevate the country's geospatial intelligence capability.
"By bringing together capabilities that give us a more complete picture faster, you enhance our ability to do our job better, so our customers can do theirs, and keep our country safe, while upholding the democratic principles [on] which our nation and other free societies were built," Dixon told an audience at the U.S. Geospatial Intelligence Foundation's 2022 GEOINT Symposium.
Executive Mosaic lauds the achievements of Stacey Dixon and the entire ODNI team over the past year. We especially appreciate their efforts to improve the acquisition structure of the intelligence community.
The former National Geospatial-Intelligence Agency deputy director won our 2021 Popular Vote competition. It's your chance to put her back on the No. 1 ranking in this year's Wash100 class. Don't forget to cast your votes by April 28.